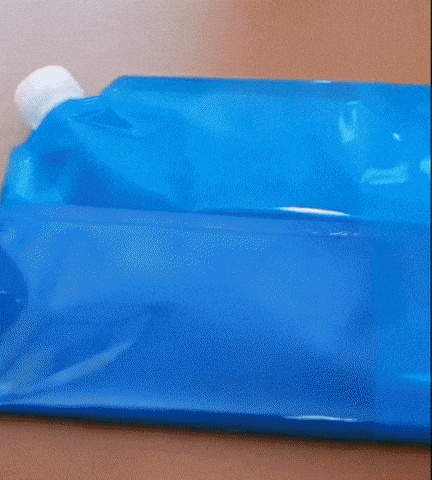 This collapsible water bottle is practical, reusable, lightweight, and safe for use during outdoor excursions, camping, hiking, travel, picnics, etc.
A food-grade material that does not contain BPA, PVC, or DEHP. Premium PET, PE, and PA plastics ensure a safe, environmentally-friendly product.
It's transparent, odorless, tasteless, soft, flexible, and flexible. Defining the definition of durability and reusability.
This water dispenser folds flat when not in use and stands up once it's full. It sits on a tabletop as an easy-to-use water dispenser. It features a large screw-top closure, which allows for easy usage, and a wide lip for ease of filling and pouring.
When not in use, it can be rolled up and stored. It is re-usable for long periods of time. Water bag folds up for easy transportation and storage and is perfect for camping, holidays, hiking, hunting, travel, car, picnics, barbecues, etc.
Everyone's favorite water bag.
Specifications:
Item type: Drinking Water Bag
Material: PVC
Color: Blue
Quantity:1pc
Mode:5L/10L
Folding size:10.5x30.5cm/4.1*12.0", 14x38cm/5.5*14.9"
Size: 32.7x30.5cm/12.9*12.0" , 41x37.5cm/16.1*14.7" 
Package Content:
1 x Water Bag
FREE Worldwide Shipping!
With ties to major logistic chains worldwide, we offer FREE Shipping for as little as 8 days to our customers Worldwide!
Commonly Asked Questions
We try our best to ship items as fast as we can. Please allow 4-7 days production time for your order to ship out, average shipping times are 8-15 days.

Tracking numbers will be updated 3-5 days after your order has been SHIPPED. If you don't have a tracking number after 7 business days, please email us at support@lootoco.com
We offer a 100 % money back guarantee, if the product is defective or damaged. We give you 30 days to send it back to us for a full refund. You must ship it back at your own expense, once we have received the product we will refund the full amount of your original purchase. Please Include all information including a name and order number on the returned parcels.
Please note: If your package is on the way, you must wait for it to arrive and return it before receiving a refund.
You are able to cancel your order with no penalty! You must cancel your order before it ships. If the item is already sent please use our easy return system to get a full refund.
If you have miss-spelled or auto-filled in an incorrect address, simply reply to your order confirmation email and confirm. Once you double check if the address given is wrong kindly notify us via email at support@lootoco.com. If the given address is wrong we can change the address to the correct one within 24 hours. No refund will be given after the 24 hours of incorrect submission.
Shipping times vary as we do ship worldwide from different fulfillment centers based on your location. The average shipping time is 8-15 business days.
Shipping costs are calculated based on shipping method (air, sea or land) and product weight / volume. Different shipping companies have different rates, so it's best to check and compare which is most affordable and economical. For more details on how shipping costs are calculated, please contact us directly.
Buyer Protection is a set of guarantees that enables buyers to shop with confidence on our website.
You are protected when:
- The item you ordered did not arrive within the time promised by the seller.
- The item you received was not as described.
- The item you received that was assured to be genuine was fake.
Absolutely! We are here to help you make your life beautiful! Please send us an email to support@lootoco.com and we will be happy to assist you in any way we can. 
We do receive a large number of emails, If you wish to get a prompt response please attach your order number and address the problem clearly, thanks.